Visitations
Tending to shut-ins, sick and elderly

This outreach ministry places a great value on tending to the sick, elderly, and other shut-ins who can't attend worship services.

Members are encouraged to join the "Visitation ministry" and share the message of Christ with members and family that cannot make it to church. Please contact the church office if you would like to participate in this ministry.

Community Involvement
Building up our community and sharing our faith

Empower Crestline
Empower Crestline is an outreach of Crestline's churches and people working together to better the lives of everyone in the community. It offers events, assistance, and support in a variety of ways:
family events - praise fests - food pantries - youth events - Farmer's Market - Backpack Program - worship services - Vacation Bible School - community meals - Community Christmas - trips and outings - support groups - prayer groups
Call Trinity's office at (419) 683-3972 for more information or if you would like to give of your time as a volunteer or give monetary donations.

CAMP Office
The Crestline Assistance and Ministries Program provides assistance to local families by giving food, school vouchers, pool passes, Community Christmas, Easter meal, and many other helpful opportunities. CAMP's assistance is made possible by the outreach of Crestline churches and Emmanuel's Bread, a local non-profit organization that grows fresh produce and leads the Crestline school's Backpack food program. Call the CAMP office at (419) 689-2702 for more information.

Fellowship of Christian Athletes
FCA is a Christian program will soon be offered for teens at area schools by the area churches, as a time for teens to fellowship and share bible lessons. The group is sometimes visited by Athletes or other famous Christians. For more information: go to www.FCA.org
Missions We Support

Become a home-based "missionary" by helping with these programs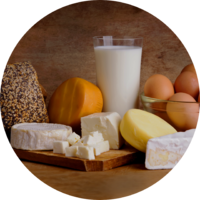 CAMP
Trinity helps our neighbors in the community through the CAMP Program. This program feeds, clothes, provides school needs, Community Christmas, Easter food boxes. CAMP is located at: 464 E Livingston Ave, Crestline, OH or call (419)683-2702

Our Missionaries

Called to share Christ's message around the world
Christina Horning

Christina grew up in Crestline, but currently lives in Germany. She works with the International Campus Staff in Freiburg, Germany at "Campus Crusade for Christ".