The FAITH5 experience embraces your Family as you shares highs and lows, scripture, talk together, prayer and blessings...a simple, five-step faith practice that can change a child, a family, and a world! This is a tool that Trinity utilizes to help our families grow in their love and faith.

Check out this wonderful family resource for daily Scripture and Prayer for your family, called Holy Families. The sight also offers activities, videos and study material for parents and for children. It is presented by North American Lutheran Church.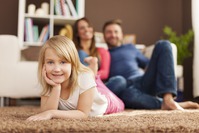 Come join us at Trinity! We'd love to meet your family!
Trinity offers a number of family based activities and opportunities to serve in the church. Watch the calendar and newsletter for events.