Be the first to read what's new!
Download our monthly newsletter.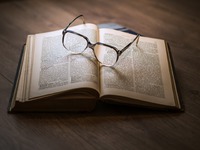 "I am the Alpha and the Omega, the beginning and the end." Revelation 22:13
It doesn't take much in turning on the news in today's world to shake one's head and say, "Where in the world (literally) are we headed?"
By staying rooted in God's Word we have an answer to that question. From before the foundation of the world, God had a plan - a plan of salvation. That plan was that all those who believe in Jesus Christ will spend eternity with God. This world will be recreated as it was in the Garden of Eden. All of creation will be made new.
But Scripture is also clear that there will be "wars and rumors of wars..." before that time comes. It will be as a "woman in the throes of child labor." And it will all center around a tiny little country called Israel.
Are you starting to see where history is headed? As the expression goes, "God's got this." It just doesn't seem like it to us sometimes.
And that is where our hope in Jesus Christ comes in. We literally have no one or nowhere else to place our hope but in the Lord.
As frightening as the Book of Revelation is to many, the underlying message is a message of hope. It was proclaimed to the early Christians who were being martyred for their faith on a daily basis. And it is still being proclaimed to us today in the midst of a world ever growing out of control by the moment.
Revelation proclaims from the opening pages to the end that Jesus is Lord. He is the Alpha and the Omega - the beginning and the end.
So, raise up your heads ye Christians. Your salvation is drawing near.
In the name of the Alpha and the Omega, the Risen Christ,
Pastor Diana